Did you miss me? It turns out that with two kids starting school, me going back to school and having a family to take care does not leave a whole lot of room for creativity. So I've been off using the old stand-by recipes and some that are here on this blog. But last week I got a newsletter from eatbetteramerica.com and they had an idea for Fiesta Lime Chicken that I couldn't pass up
{with the usual Mari alterations}
. It was SOOO good. A fiesta in your mouth if you will! It will definitely be a regular... besides it gives me one more excuse to eat homemade guacamole.
Without further ado,
Fiesta Lime Chicken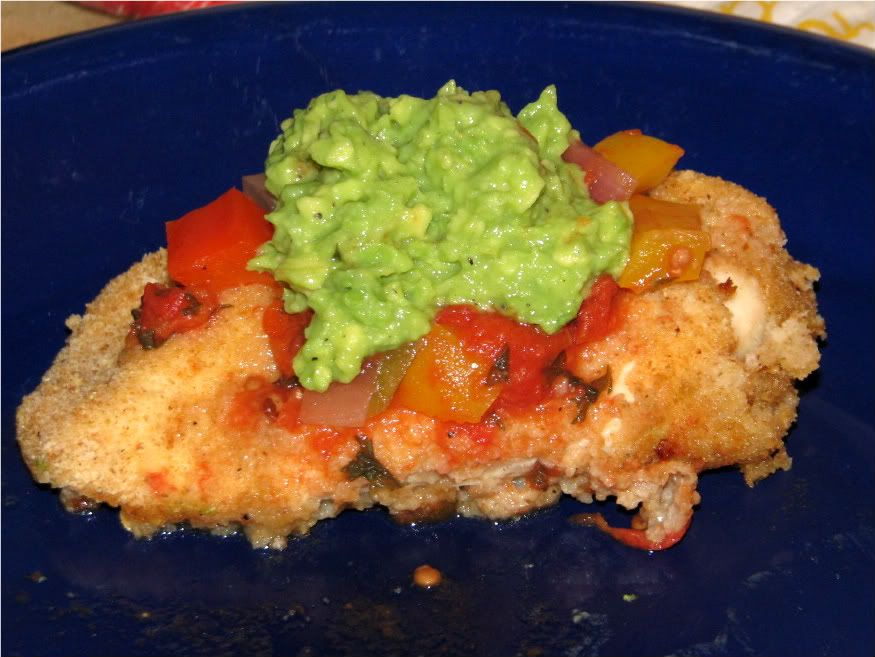 1/4 cup Fiber one cereal made into bread crumbs
(I used plain bread crumbs from a canister)
1 tablespoon ground cumin
2 teaspoons grated lime peel
1/2 teaspoon salt
1/4 cup buttermilk
( I used regular milk and also juice the lime into the milk)
4 boneless skinless chicken breasts (1 1/4 lb)
Juice of one lime
Cooking spray
Salsa
(from eatbetteramerica.com, but I just used Alex's homemade salsa and made guac instead... because I can't get enough guacamole)
1/2 medium tomato, seeded, chopped (about 1/2 cup)
1/2 medium avocado, chopped (about 1/2 cup)
(I made guac with 3 avocados)
1 tablespoon chopped fresh cilantro
1 teaspoon chopped jalapeño chiles, if desired
1 teaspoon lime juice
1/8 teaspoon salt
1/8 teaspoon pepper
1. Heat oven to 400°F. Spray cookie sheet with sides with cooking spray.
2. Place cereal in resealable food-storage plastic bag; seal bag and finely crush with rolling pin or meat mallet (or finely crush in food processor).
(skip this step if you do what I did and just use pre-made bread crumbs)
3. In shallow bowl, mix cereal, cumin, lime peel and salt; set aside. Pour buttermilk into another shallow bowl. Dip chicken into buttermilk, then in cereal mixture, coating well; place on cookie sheet. Spray tops of chicken breasts with cooking spray.
4. Bake 20 to 25 minutes or until juice of chicken is clear when center of thickest part is cut (170°F).
5. Meanwhile, in small bowl, mix salsa ingredients. Serve with chicken.